Khormaksar School's Picture Gallery
This is only a very rudimentary display of the very few pictures I have been sent so far. Order of display is purely random – except that batches of photos from the same email are likely to be together.
In the interests of displaying them to as wide an audience as possible as soon as possible I am simply posting them in here with a few comments about who sent it to me and what it shows. This creates a resource from which anyone else is free to download as much or as little of it as they feel inclined, tidy it up and either return it to me or ask for the FTP credentials so they can post the improved page.
Your attention is also drawn to our 'overflow area' at :-;
where pictures that are too big for the website or perhaps just haven't yet made it here are displayed;
There's a further 'overflow area' at :-;
where Rebecca Neander (nee Stevens) has displayed some pictures from her family's two tours in Aden ;
And yet another (getting quite a trend this !) from Joyce Belcher (Née Nicholson) at :-;
Nicholson Family Pictures 1959-63
And there's more ! from the Thomas Family at :-;
Thomas Family Pictures 1959-61
Garry Kilworth
GarryK1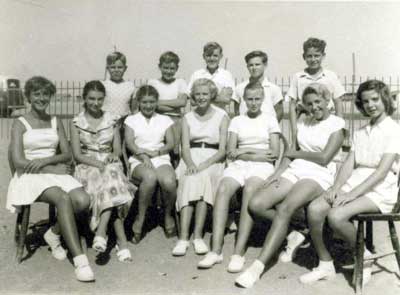 Boys' line: Unknown, Garry Kilworth,Unknown, Graham Maxwell, Unknown
Girls' line: Unknown, Unknown, Rosemary Burns, etc
GarryK2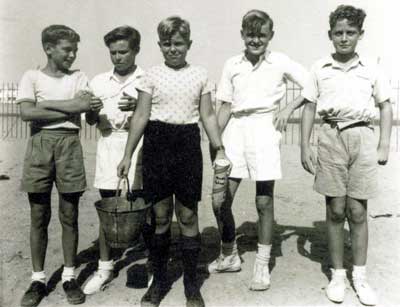 L-R : Garry Kilworth, Graham Maxwell, rest anon
GarryK3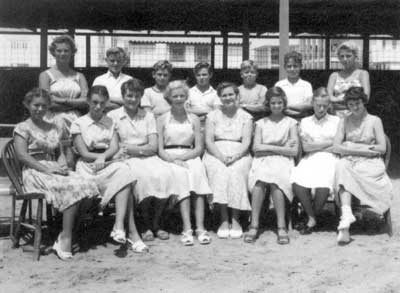 Boys' line: Unkown, Unknown, Garry Kilworth, Graham Maxwell, etc
Girls' line: Rosemary Burns, Unknown, Unknown, Unknown, Mrs Bullock (teacher)
Tony Wright Shiner3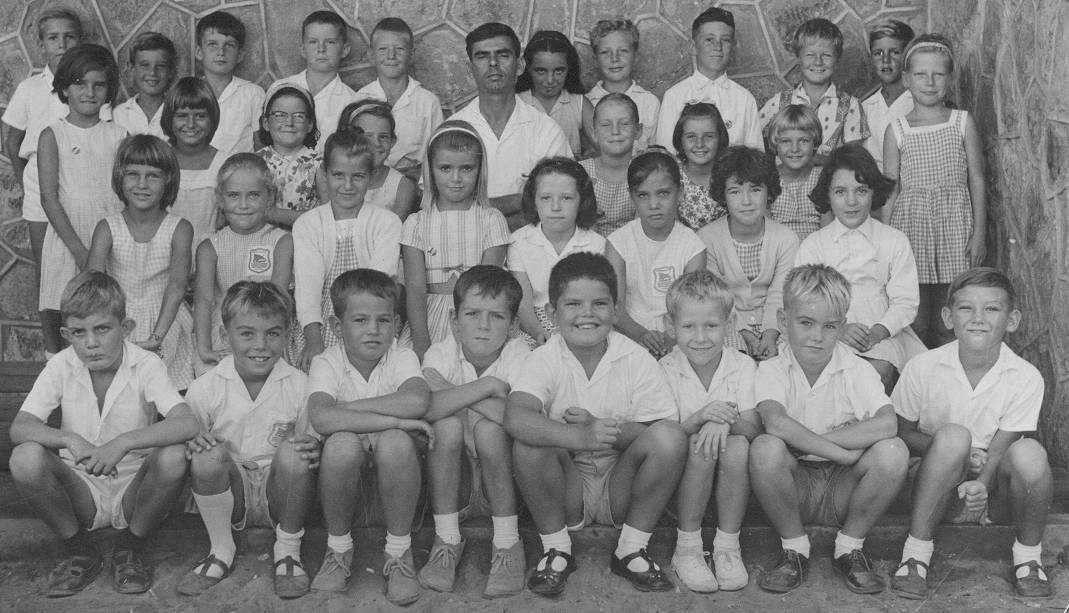 Khormaksar Primary School class 2B or 3B 1964ish.
Tony is top row 3rd right. No other names were known when we first posted this but several different people have since identified themselves or others in it.
Rebecca Neander (nee Stevens) also sent me a copy saying that she was second row, third from the left and had posted it in her own Yahoo! album where she'd ID'd several others. Alas, her album is no longer available (she died in 2009). She also said the teacher was Mr Gallagher and it was class 2B from 1964 . Also a couple of partial IDs :-
Dane ? Back row, 2nd from right
Simon ? Back row, 3rd from left
Jan ? Second row from front, 1st from left
She also mentioned a John Parker as being in the same class although never ID'd him in the photo.
PAT MOBBS (née Davies) PM_ADEN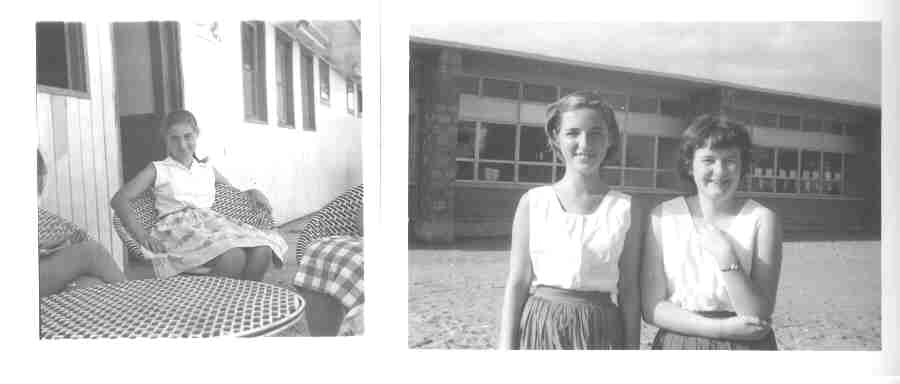 Pat at Youth Club..... Anne Amos(L) & Barbara Jones(R) - with Khormaksar School (some doubt whether Primary or Secondary) in background
Date 1963ish. Mary McCormack's Class Picture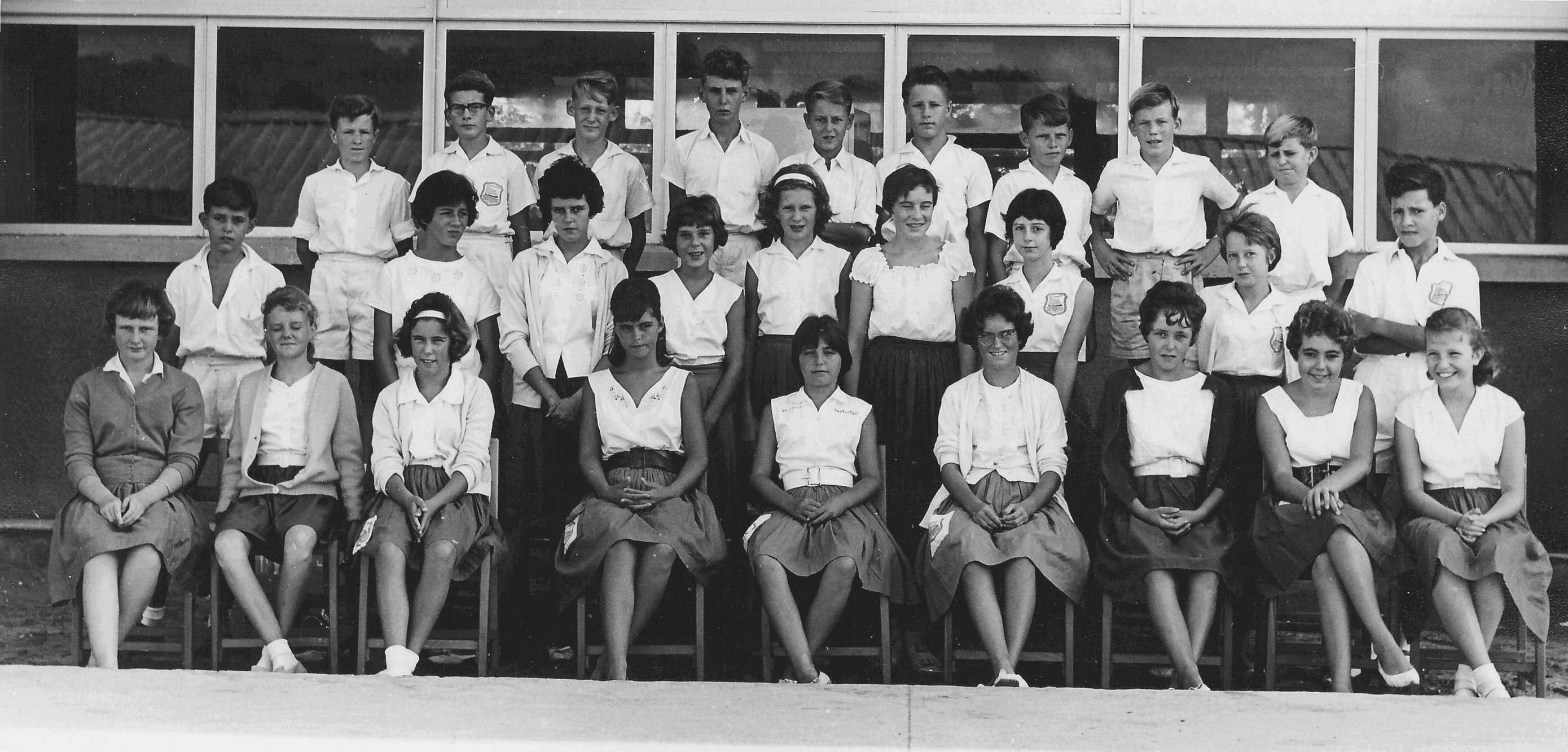 FRONT ROW (from left) (0 = Unknown – so far!)
Gillian ? 0 Mary Richards Judith Heslop 0 Frances? 0 0 Naomi?
MIDDLE ROW (from left)
0 0 Lesley ? Deanna Spiret Mary McCormack Vivien Howarth Susan Goater 0 David Cooper
Back Row (from left)
0 0 Howard (Taffy) Davies 0 George Appleby Nicholas Walker 0 0 0
Geoff Burns 1964ish "Aden Airport Road"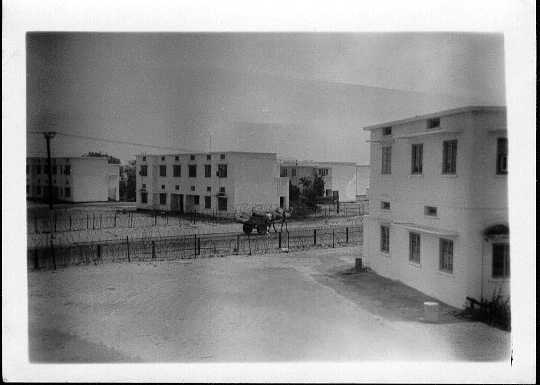 Looks very like the back doors of the AMQs where I used to live (but no barbed wire in 62)
Contrast it with Pat's picture taken just round the corner only four years previously
Pat Mobbs(née Davies) 1961 "Khormaksar AMQs with school in distance"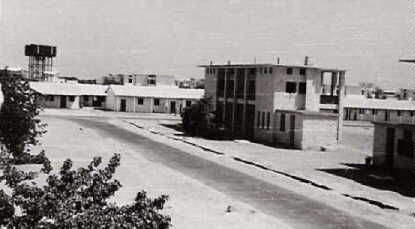 School Sports Day 1964 . . . . . . . . . . . Lido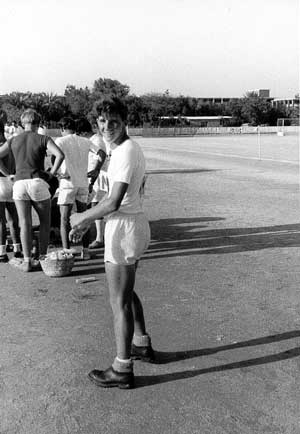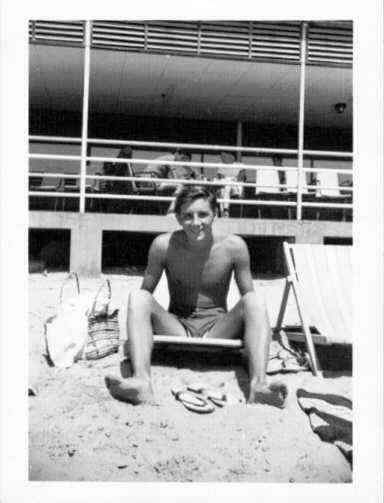 Denise Gundry (née Bryer) various photos taken 1963 - 5
DenG1 Our Ist Floor Flat in Maalla on the ' Maalla strip.' Only spent 6/8 weeks there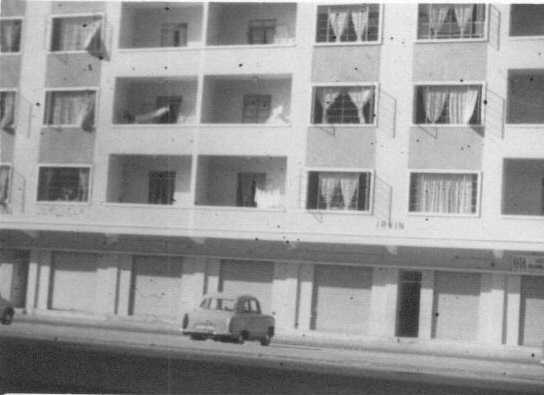 DenG2

Moved to AMQ Khormaksar - Ely Road - can't remember the number. End house - opposite the exit to the main highway and 1st road behind the shops - opposite the main camp.
Our house had a lovely -extended patio - coconut matting & surrounded by a fencing of camel weed. One of the few houses with greenery. Many an adult & child's party held in this oasis !!!

[Apart from the greenery – which I believe I recognise from 4 doors away – this house seems identical to ours which was No 443B (name of road unknown) – even to the extent of the single air-conditioned room (fitted 1962) mentioned below. I think I even recognise the block of flats at the bottom of the road shown in next picture – EM]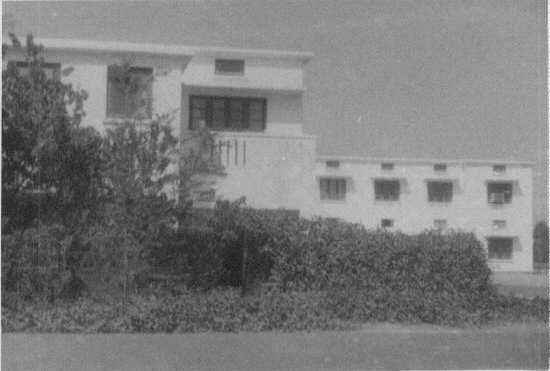 DenG3
My Road -Ely Road - My younger brother on the right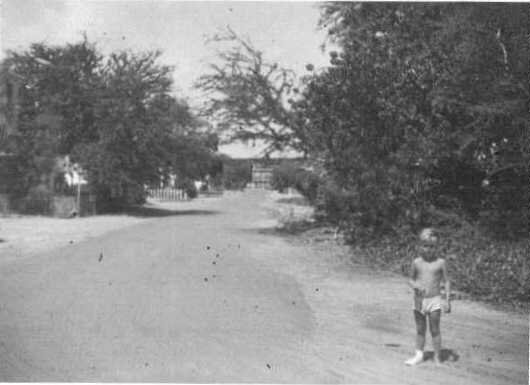 DenG4

The ' back door' of our house. Notice the air condition room ! The only one in the house !! My parents bedroom - the whole family use to pile in - in the hot season to get a good nights sleep !!??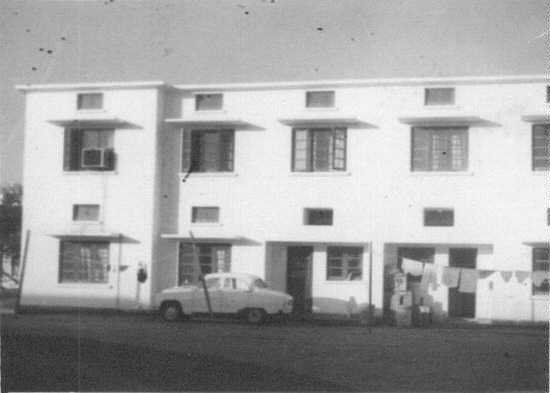 DenG5
Elephant Bay - My parents favourite beach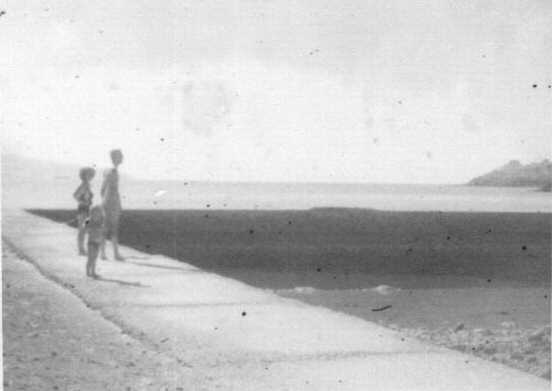 DenG6
The local shops, Khormaksar - opposite the main camp. My house just behind them. Yes, that's me - look at those legs - Twiggy or what!! Did know the shopkeepers name but have forgotten - maybe a member can remember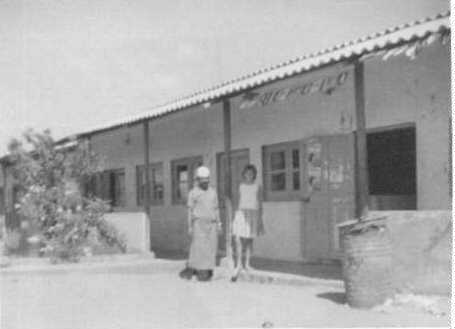 DenG7

Lido Beach - Steamerpoint . My favourite beach.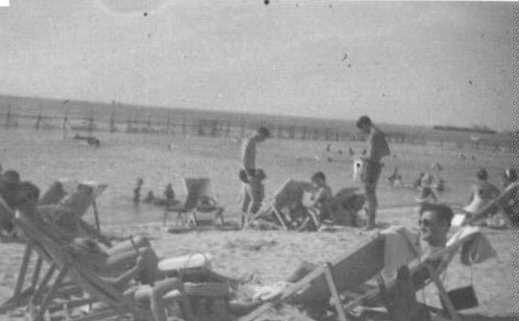 DenG8

View from our house - the day the barbed wire went up ! Unfortunately I didn't note the date 64 ish !?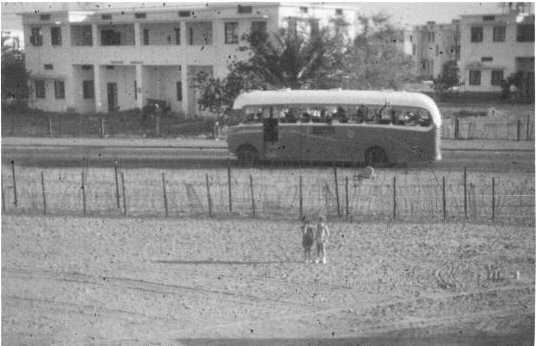 DenG9

Our climb up Shamsan - Everyone had to do ' the climb' - so my dad said ?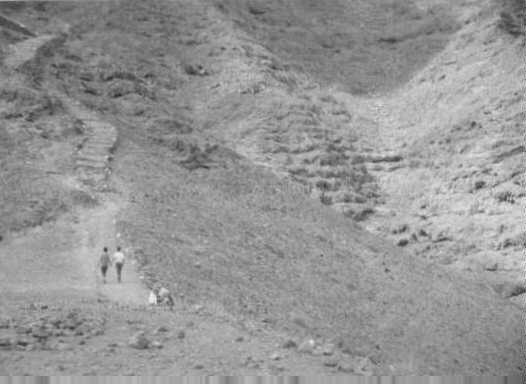 DenG10
View from Shamsan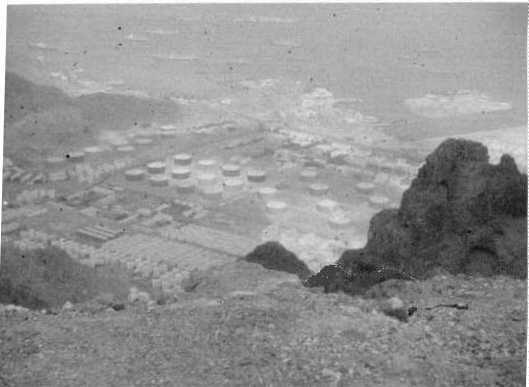 DenG11

Camp Pool - family members are there somewhere !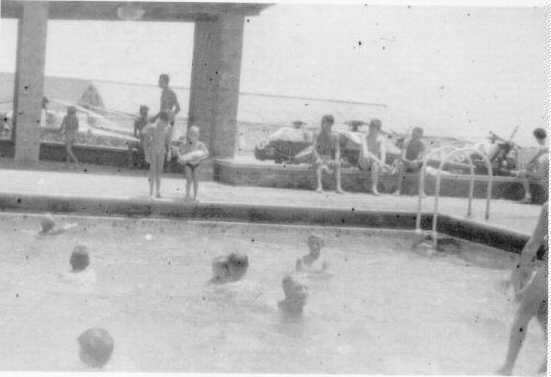 DenG12
Maalla (Should be pic 2) - Our local shop to our flat in Maalla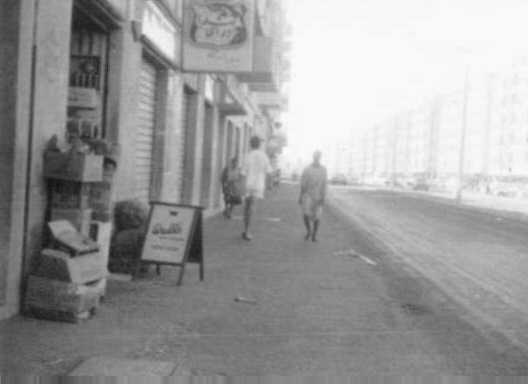 A couple from Barbara Rafferty (nee Hankin )
BarbRaff1.jpg A photograph taken from the balcony of one of our many flats before we
were settled in Tarshyne. I think this one may have been of the Mhalla
Straits up by the Arabic village area.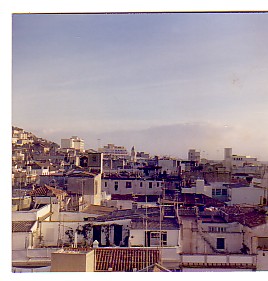 BarbRaff2.jpg A photograph probably taken in late 1962 at my 12th birthday party in Tarshyne. I am the one at the back on the right with sun bleached hair. The little girl on the right in the foreground is my sister Dorin who would have been seven years old.

Can't remember the guests names but I think the dark haired girl may have had the surname Overy.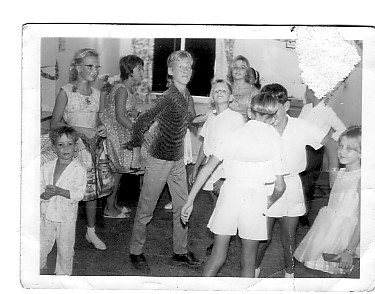 How about this for a coincidence folks ?!
Pat's dad had a helicopter joyride in 1960. During the trip he took a few pictures of an RAF launch the helicopter was exercising with. Pat sent me the picture very recently and on careful examination of a rather higher quality version than is published here, I'm pretty well convinced that the furthestmost forward chap on the launch is my dad. Alas, both our dads are now dead so we can't ever be certain of this.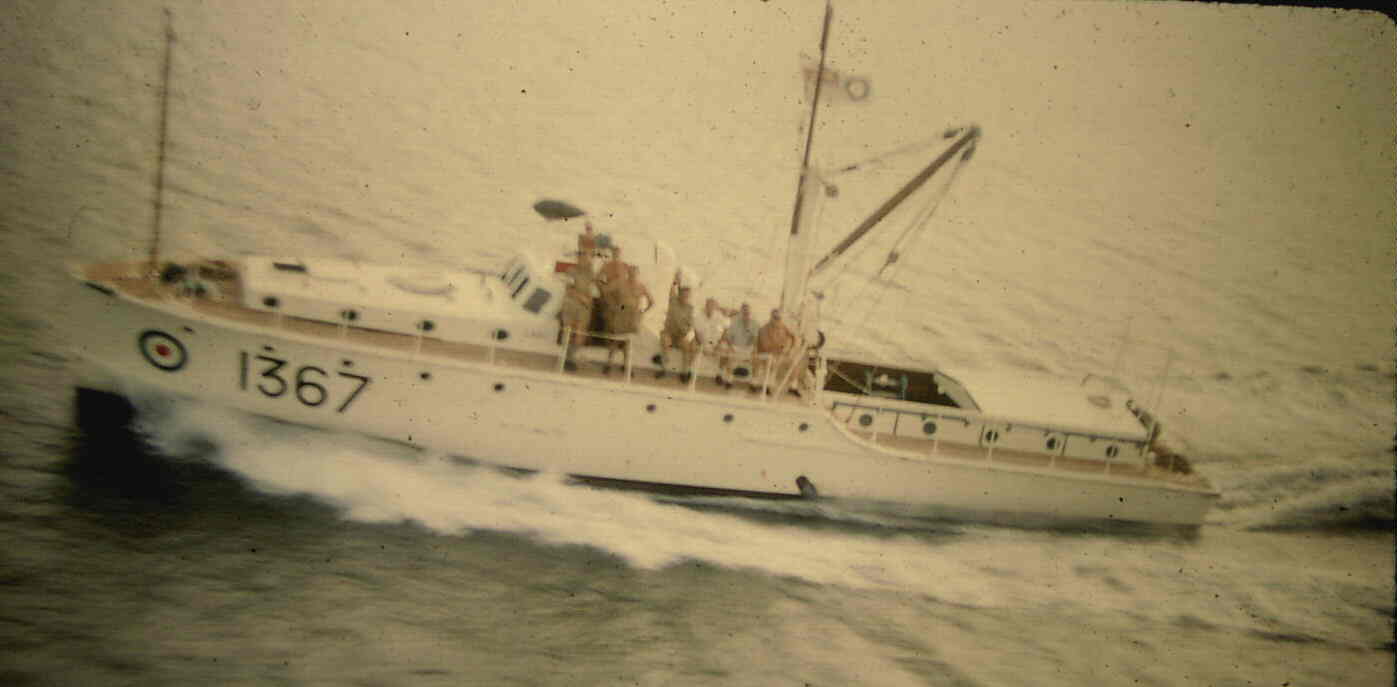 Since I basically like looking at pictures of RAF launches, I'm adding this one that Pat also provided – but afraid I can't recognise any of the crew here.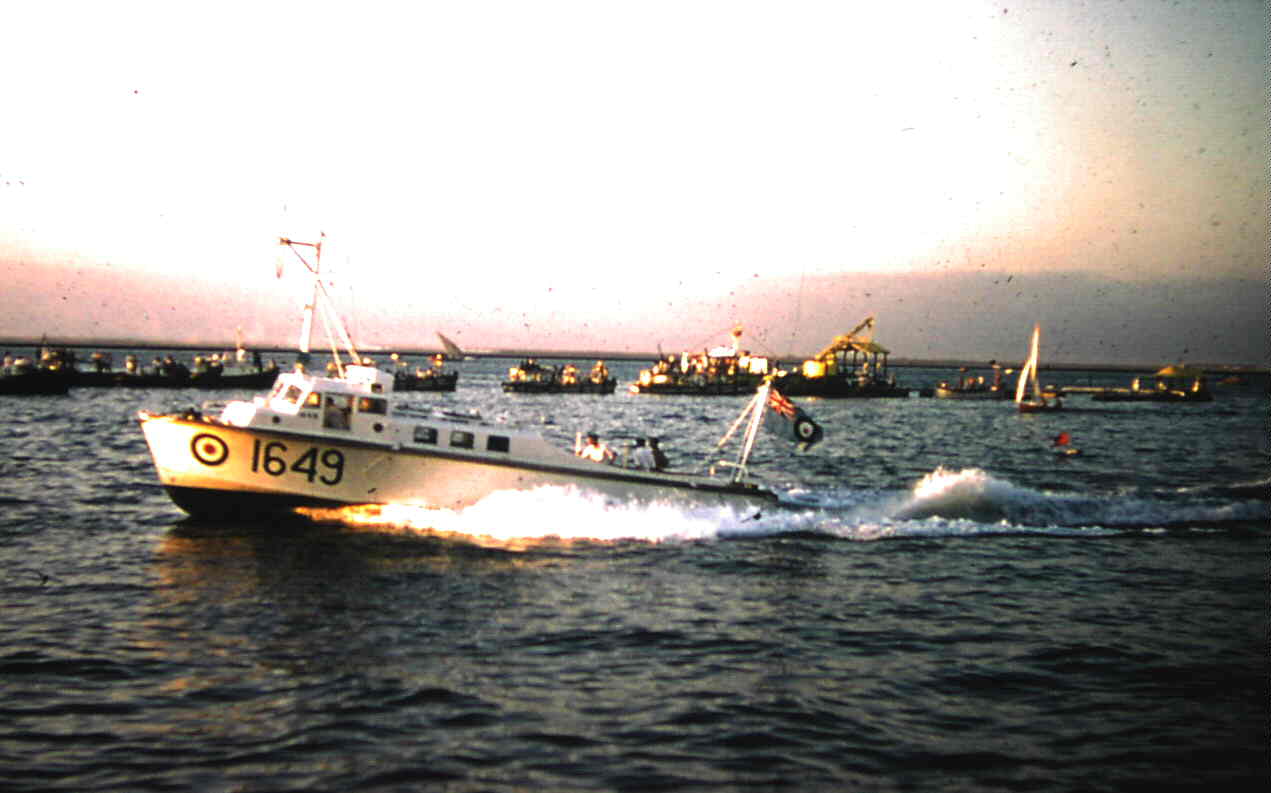 Stephanie Carmichael (née Walker)
Has sent me this shot of herself with quite a nice view of Crater in the background. Stephanie's brother Nick appears in Mary McCormacks class picture shown above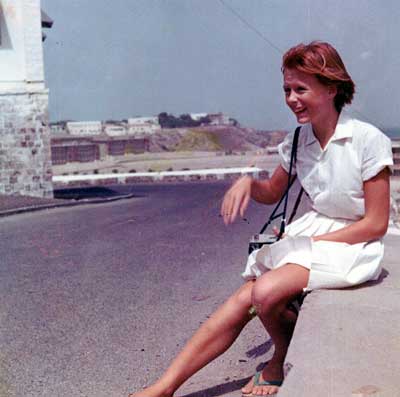 Jackie Goulty (nee McCormack) has sent these :-
JAG1: A group taken at Khormaksar Pool
Jackie is 5th. from Left and Jacky Raynor 3rd.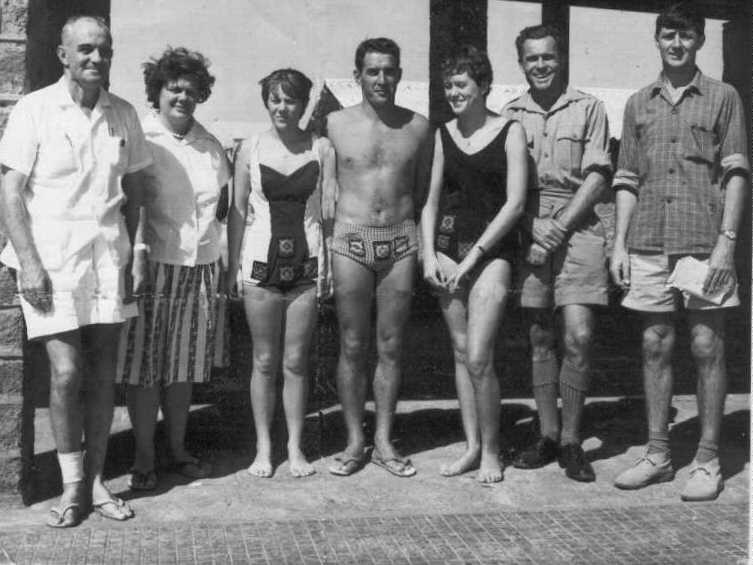 JAG2
: Khormaksar Pool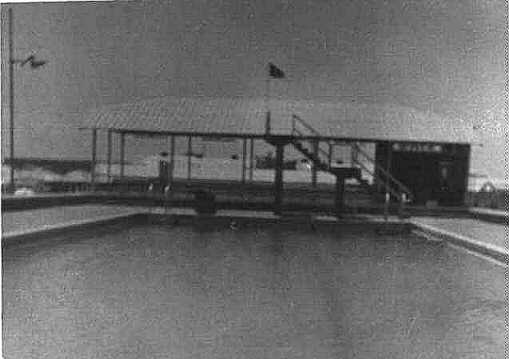 JAG3: Picture taken at a "Tramps Party" , Steamer Point Youth Club
Jackie is 3rd from left at back.
Rest unknown (unless someone recognises themself ?)
A bumper crop from Garry Smith – and all in colour
GarryS1 Garry outside home in Khormaksar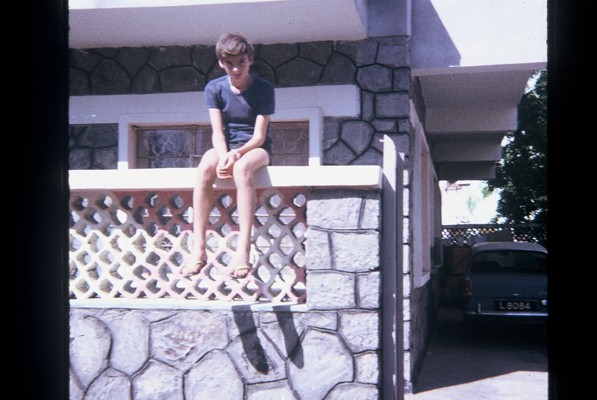 GarryS4 Street where he lived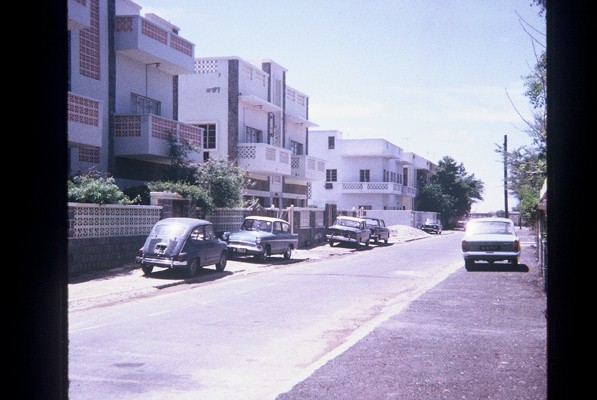 GarryS13 (Khormaksar?) Camp Entrance in 1966ish : rather more heavily guarded than in the 50s & early 60s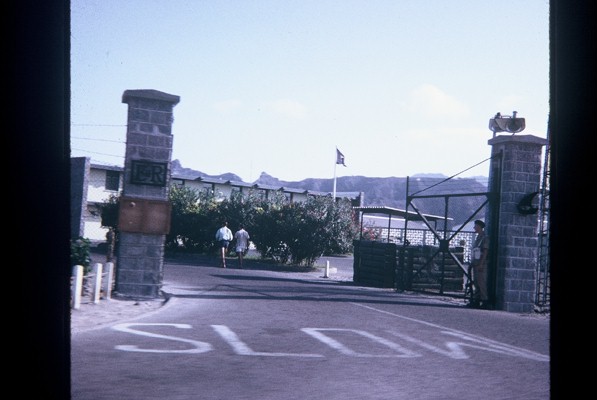 GarryS3 A shopping area in Khormaksar
GarryS10 Maalla Straight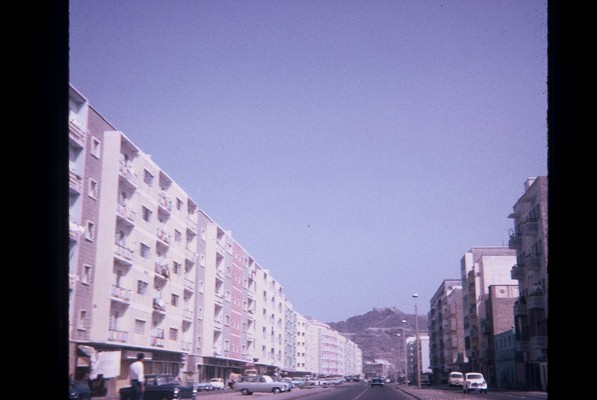 GarryS2 Elephant Bay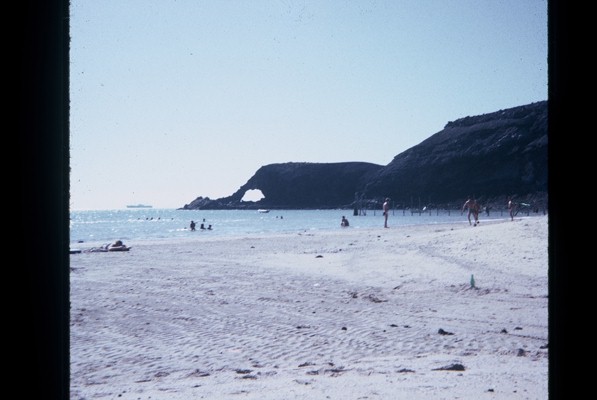 GarryS7 Sorry but I couldn't resist the pun "A gharri from Garry"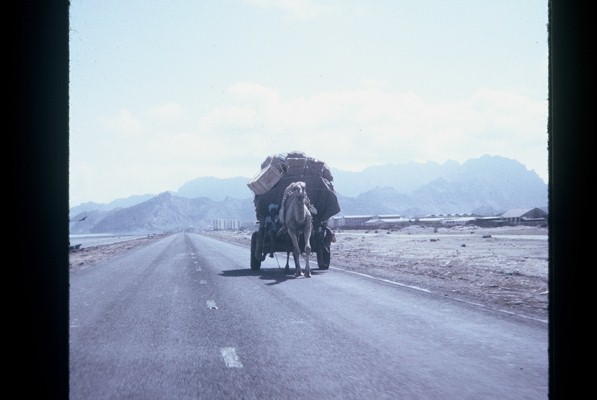 LostDonor Sorry but I've lost the email that explained who was in this and when it was taken. Perhaps donor could repeat them for me ? ;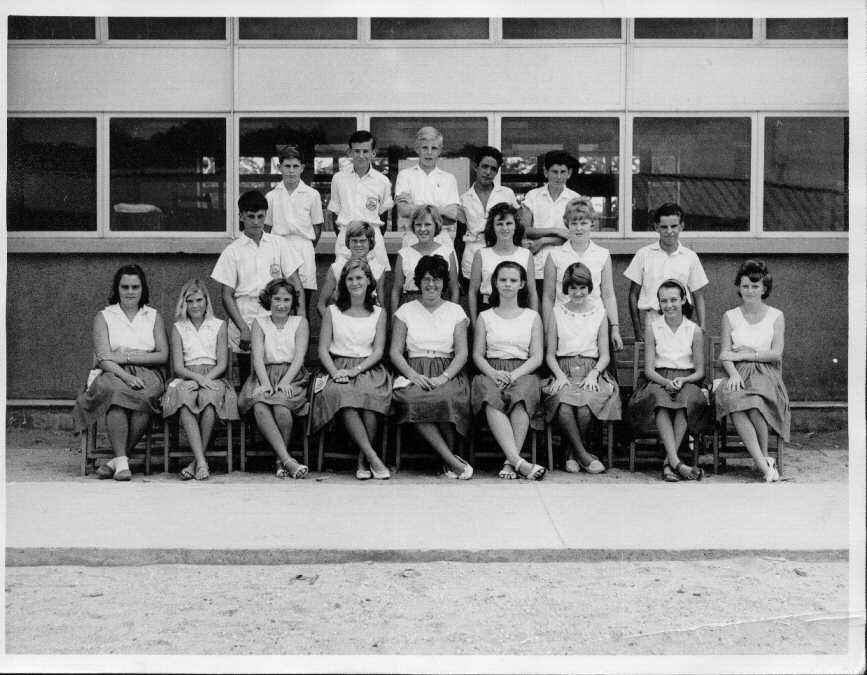 Margaret Steele (nee MacQueen) has sent in this class pic of 2C:1964;

Susan Hewitt (nee Stewart) has found a class pic of 1A:Spring 1963;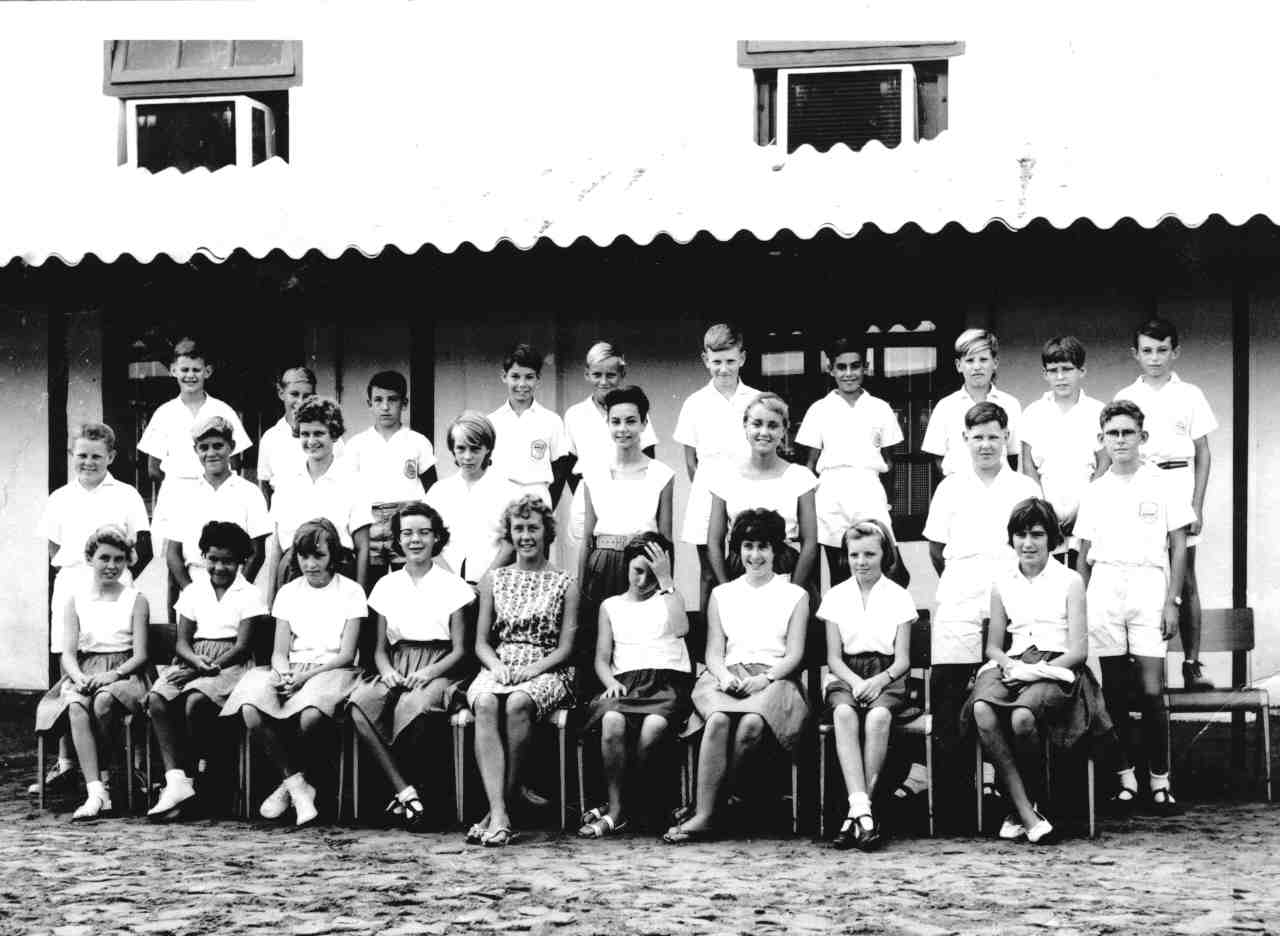 Left to Right :- ;
Back Row – Robert Winstanley, David Lassiter, Douglas Foster, Quentin Flower, Frederic Webb, Kenneth Jeffs, Andre Green, Antony Hynds, Kevin MacDonnell, Peter Barraclough. ;
Middle Row – Richard Chambers, Dennis Brandon, Rosemary Morrison, Yvonne Boys, Laura Fraser, Nadine Jackman, Richard Ransom, Angus Wilkinson. ;
Front Row – Pamela Laird, Hazel Gosselin, Alyson Lord, June Rapson, Miss Plummer, Judith Shand, Susan Stewart, Stephanie Goldsmith, Janet Forward. ;
Maureen Bonello(nee Hymers) has found a class pic of 4B from 1963;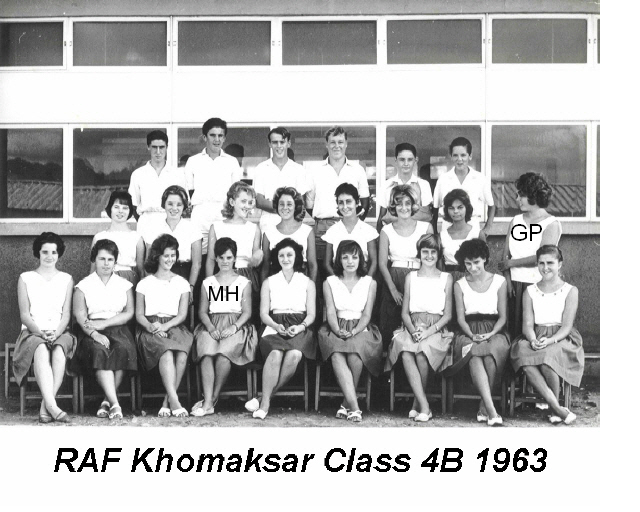 Maureen is Front row 4th from left. Rest unknown (as yet)
Gillian Platt (now Mrs Taylor) is located far right last on the row facing side ways , second row.